Wine Cruise next June, anybody?
We wish we had the money to go on that cruise organized by Alexandria Nicole Cellars (ANC) next June around the Mediterranean sea, through the straight of Gibraltar, and into the Atlantic ocean. Ten days sipping on wine, having dinner prepared by Chef Jacques Pépin.
Not only ANC makes some of the best wine in Washington, but they also know how to live.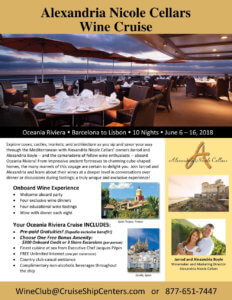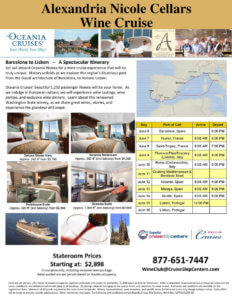 Croisière du Vin en Juin prochain:
Nous rêvons d'avoir les moyens d'aller sur cette croisière organisée par Alexandria Nicole Cellars (ANC) en Juin prochain autour de la Méditerranée, à travers le détroit de Gibraltar, et dans l'océan Atlantique. Dix jours à boire du vin et à déguster les dîners préparés par le Chef cuisinier Jacques Pépin.
Non seulement ANC fait les meilleurs vins de l'état de Washington, mais ils savent aussi comment vivre.