Seafood Pasta and Chenin Blanc
Wine: We have a Chenin Blanc 2017 "Petit Zebra" from Western Cape, South Africa.
It is crisp, zingy, with citrus (aka acidic) and some tropical flavors.
Food pairing: Gina did some pasta with clams, served with a salad of cabbage, mint and pine nuts..
A chenin blanc from the shore of South Africa with seafood... makes perfect sense. Rich pasta with dry wine, creamy sauce with acidic wine, and seafood with white wine...It's all there.
Note: we could have used our Riesling, as it has those same qualities, except for the tropical flavors.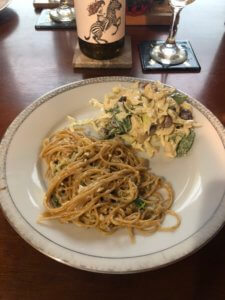 Pâtes aux fruits de mer:
Vin: Nous avons un Chenin Blanc 2017 "Petit Zebra" de Western Cape, Afrique du Sud.
Accord Met: Gina a fait des pâtes avec des petites coquilles Saint-Jacques, servi avec une salade de chou, des feuilles de menthe et des pignons.
Un Chenin Blanc de la côte d'Afrique du sud avec des fruits de mer... c'est tout à fait logique. Des pâtes riches avec un vin sec, une sauce crémeuse avec un vin acide, et des fruits de mer avec un vin blanc...Tout y est.
Note: Nous aurions pu utiliser notre Riesling, qui a toutes ces qualités, sauf pour les saveurs tropicales.