Willcox Wine Festival
We were lucky to be one of the 18 wine maker to be represented at the Willcox Wine festival (out of more than 50 wineries in AZ) last weekend (10/20-10/21).
It was a lot of work, but we sold a lot of wine. I lost my voice in the process.
Next year, if we're in it, we'll be better prepared.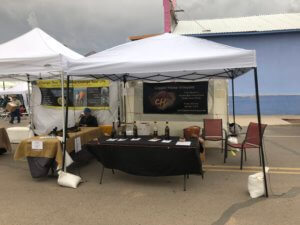 Willcox Wine Festival
Festival du Vin à Willcox, AZ
Nous avons été assez chanceux d'avoir été choisi pour être un des 18 vignobles représentés au Festival du vin à Willcox (sur plus de 50 vignobles en Arizona) le weekend dernier (20/10 - 21/10).
Cela a été beaucoup de travail, mais nous avons vendue beaucoup de vin. J'ai perdu ma voix pendant le festival.
L'année prochaine, si on en fait parti de nouveau, nous serons mieux préparés.