A soaking tub
Ok, it is not a swimming pool, nor a hot-tub, it is just a 6ft round soaking pool made of a cow trough and some insulation to keep the water warm at night.
But it feels good to dip into it when it is 100°F outside.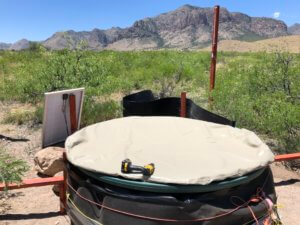 Une grande baignoire
OK, ce n'est pas une piscine, ni un Jaccusi, mais juste une grande baignoire de 2 mètres de diamètre faite d'un abreuvoir pour le bétail avec une isolation thermique pour garder l'eau chaude pendant la nuit. Cela fait du bien de s'y tremper quand il fait 38°C dehors.